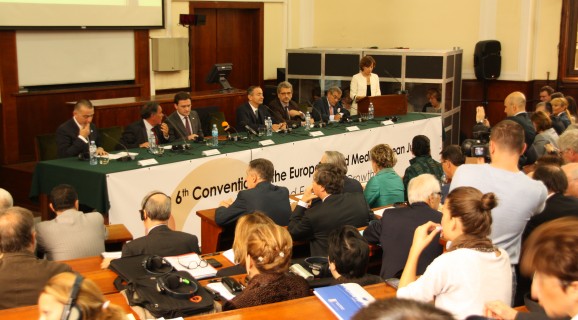 6th Conference of European and Mediterranean Lawyers "Justice and Economic Growth"
On 25 and 26 September 2014, 6th conference of European and Mediterranean lawyers "Justice and economic growth" was held at the Faculty of Law in Belgrade. The conference was organized by the Foundation for Continental Law in cooperation with University of Belgrade Faculty of Law, Judicial Academy, Embassy of France in the Republic of Serbia, with the support of the Ministry of Justice of Serbia.
"The recovery of economy is one of key priorities  of the Government of the Republic of Serbia. The main pre-condition for the implementation of this priority is providing better business environment for the investors, thus enabling a clear picture of potential outcome of future investments, not only from the economic, but also legal aspect", stated the Minister of Justice Nikola Selaković at the opening of the conference.
The conference brought together over 250 participants from the following countries: Algeria, Germany, Belgium, Bosnia and Herzegovina, Croatia, Egypt, Hungary, Italy, Lebanon, Morocco, Poland, Portugal, Romania, France and Serbia. The main topics of this year's Congress of Lawyers of European and Mediterranean were education of legal practitioners, control of legal decisions, enforcement of legal decisons.