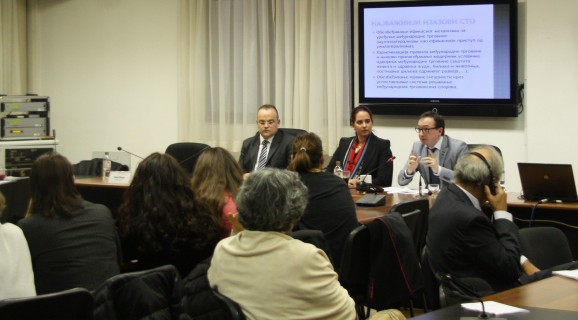 Seminar on the WTO Accession Process
On Monday, 16 December 2013, seminar on the negotiations for the accesion to the World Trade Organization was held at University of Belgrade Faculty of Law. Our Faculty has organized this seminar in cooperation with the Ministry of Foreign and Internal Trade and Telecommunications of the Republic of Serbia, the Swiss State Secretariat for economic issues and the Centre "Ideas" in Geneva.
The seminar was attended by our master and doctoral students, as well as by experts from the practice, especially the employees in the state administration. At the opening of the seminar, participants were welcomed by Mr. Jean-Daniel Ruch, Swiss Ambassador in Serbia, Mr. Josip Pervan in front of the Centre "Ideas" and professor of the Faculty, Dr. Miroljub Labus. The seminar was divided into three parts.
The first part was dedicated to the history of the World Trade Organization. The second part of the seminar dealt with the issue of negotiations for the accesion to the World Trade Organization. Mr. Nicolas Imboden from the Centre "Ideas" informed the participants about the progress and results of the ninth Ministerial Conference, which was held from 3 to 9 December 2013 in Bali, where he participated as a Swiss delegate and spoke about the prospects Doha – round of negotiations which is still in progress. In the third part of the seminar, Mr. Josip Pervan from the Centre "Ideas" and a former Croatian negotiator in the process of acceleration of the WTO, presented the Croatian experience in the process of joining the WTO and presented potential difficulties that Serbia could meet on the same path. Last topic for seminar dealt with the impact of the WTO on the unification of international trade law.
After the introduction of the general characteristics of the legal framework of international trade among WTO members presented by assistant Marko Jovanović, Prof. of University of Niš Faculty of Law, Dr. Predrag Cvetković, spoke about the growing importance of foreign investments in the law of the World Trade Organisation, while Ass. Prof. Dr. Milena Đorđević, emphasized the practical importance of studying the law of the WTO, particularly in the context of a specific system of resolving international trade disputes within the framework of this organization.