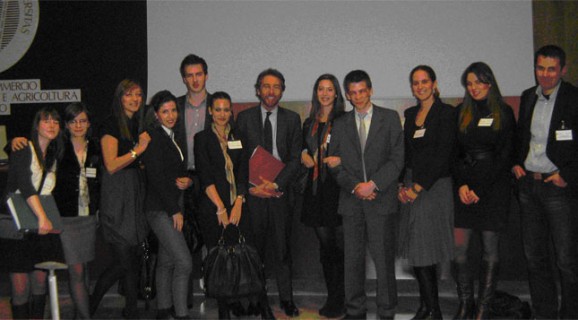 Belgrade students won the first place at the IV Milan Pre-Moot
Competing against teams from Italy, Switzerland and Germany, the team of the University of Belgrade Faculty of Law won the first place at the IV Milan Pre-Moot organized by the Chamber of Arbitration of Milan on 25 February 2011 on the occasion of XVIII Willem C. Vis International Commercial Arbitration Competition Moot. The prize for their achievements – Gary Born's International Commercial Arbitration – Commentary and Materials, awarded by Mr. Stefano Azzali the Secretary General of the Chamber of Arbitration of Milan – students have donated to the library of the Faculty.
The Willem C. Vis International Commercial Arbitration Moot centers on a simulation of international commercial arbitration before which a dispute arising out of the sales contract is being resolved, and consists of two parts. The first one is preparation and submission of written memoranda for both Claimant and Respondent, while the other part consists of a simulation of an oral hearing in international commercial arbitration before the three-member panel of arbitrators. The initial oral arguments take place in the period of four days, when each team is given an opportunity to plead two times as Claimant, and two times as Respondent. Each one of the arbitrators sitting in the panel will provide their score-sheets for the team members pleading before the tribunal and after 24 different scores and four days of pleadings, rankings of the top teams in qualification rounds are announced. Top 64 teams in 32 pairs will proceed to the final, elimination rounds of the competition and try to win the first place.
This year's competition will be held in the period from 15 to 21 April 2011, and apart from the pre-moot competition in Milan, our students will participate in preparatory rounds in Hannover, Saarbrucken and Basel in the period from 10 to 21 March 2011. Final preparations prior to the competition in Vienna, will be organized in Belgrade, from 9 to 10 April 2011, within the IV Belgrade Open Pre-Moot that will engage 31 team from 22 different countries and more than 150 arbitrators from all over the world.
The team of our students for this prestigious competition includes the following fourth year and master students of the University of Belgrade Faculty of Law: Ana Avramovic, Ivan Cavdarevic, Snezana Dabic, Vojimir Kurtic, Iva Paic, Sara Pendjer, Boris Radojcic, Sonja Sreckovic, Tanja Sumar and Mina Zivadinovic. Prof. Vladimir Pavic and lecturer Milena Djordjevic, together with lecturer Marko Jovanovic, are coaches of the Belgrade team. Additionally, an invaluable contribution to the preparatory phase of the Moot and assistance for the oral rounds was provided by previous participants and current associates in different Belgrade law firms – Uros Zivkovic, Bojana Jelisavac and Marija Skundric – as well as Vuk Cucic, lecturer at the University of Belgrade Faculty of Law.