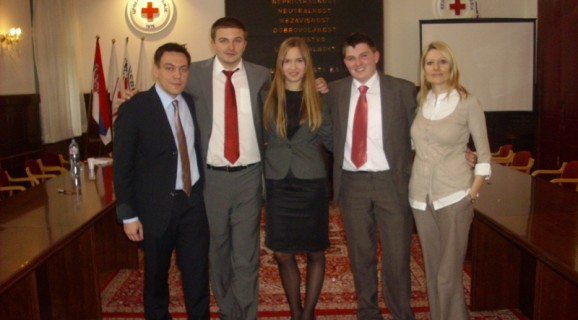 Our faculty won the first place in the competition of the International Humanitarian Law
In the period from 25 to 30 April 2009, the Red Cross of Serbia organized VIII national competition in international humanitarian law. Faculties of Law in Belgrade and Novi Sad, Faculty of Security, Police Academy and the Military Academy. The winner of the competition was the team of our faculty, that was consisted of Nenad Kovačević, Stefan Antonić and Marija Šćekić. The coach of the team was Jovan Nicić, advisor in the Office of the National Council for cooperation with the International Criminal Tribunal for the former Yugoslavia. Ass. Prof. Dr. Ivana Krstić helped our team. Second place went to the team of the Faculty of Security, University of Belgrade.
Our team also won another prize: award for the best speaker in the competition, which Marija Šćekić gain. By winning first place, our students have secured participation in the prestigious international competition Jean Piktet, which will be held in April next year.