From February 15th until February 19th, ALF's team members from Belgrade visited Lisbon for several project-related activities. BGL members were Vanja Eror, Miona Vukanić, Petar Pavlović (Administrative staff), and Prof. Miodrag Jovanović, Assoc. Prof. Bojan Spaić and PhD Candidate Ana Zdravković (Academic Stuff).
Administrative Stuff from Belgrade participated in several administrative meetings with Ana Viera da Silva and members of the Administrative Team from the Institute of Legal and Political Sciences of the Faculty of Law University of Lisbon (Instituto de Ciencias Juridico Politicas da Faculdade de Direito da Universidade de Lisboa). During the meetings, various aspects of project management were discussed, with a special emphasis on the exchange of experiences, ideas, and best practices in an effort to successfully and efficiently carry out ALF activities.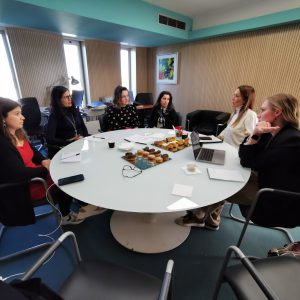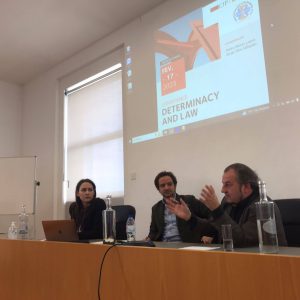 Academic staff from Belgrade participated in the Conference "Determinacy and Law," which was co-organized by ALF and the Lisbon Legal Theory Group, and the Lisbon Centre for Research in Public Law of Lisbon's Law School. Prof. Miodrag Jovanović presented a paper on "Indeterminacy, Normativity, and Soft International Law," Ana Zdravković participated as his commentator, whereas Assoc. Prof. Bojan Spaić presented a paper titled "A Nonlinguistic Account of Legal Indeterminacy." His commentator was Prof. Veronica Rodriguez-Blanco, from the University of Surrey, also one of the Partner Institutions within ALF. In addition, ALF's members who also participated in the conference were Ass. Prof. Pedro Moniz Lopez (ICJP, University of Lisbon), with the paper "Generics, Indeterminacy, and Superordinate level actions." His commentator was Julieta Rábanos, PhD, from the University of Genova. Prof. David Duarte (ICJP, University of Lisbon) participated as a commentator on "Resolving Indeterminacy at the Heart of the EU Project – Ten Revolutionary Theses on 'Coherence,'" presented by Stephen Pethick.
Overall, all activities undertaken during the visit were constructive and valuable for the further implementation of the project.