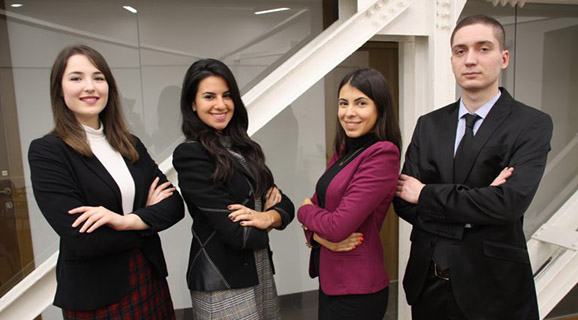 The University of Belgrade Faculty of Law's student team has been selected from among 28 entrants to participate in the quarterfinals of the 2020 Ian Fletcher International Insolvency Law Moot, based on the quality of its written submissions. The oral rounds will be organised by INSOL International and the International Insolvency Institute and will be held from 7th to 9th February 2020 in London.
Hoping to give the best possible performance on behalf of their faculty team members Vera Kojić, Ines Janićijević, Ksenija Džipković and David Spaić have been working on the case and written submissions for more than two months under the guidance of their couch Lecturer Nikola Ilić. The team is headed by the two professors, Prof. Dr Vuk Radović, and Prof. Dr Branko Radulović, who continue to give the students outstanding support with their professional advice and constant dedication.
The participation of the team in the oral rounds has been made possible by the help provided by Ass. Prof. Dr Milena Đorđević, moot court coordinator at the faculty of law, and the management of the faculty. In addition, the team's presence in London would not be possible without generous help and support of the International Finance Corporation in Serbia (IFC).