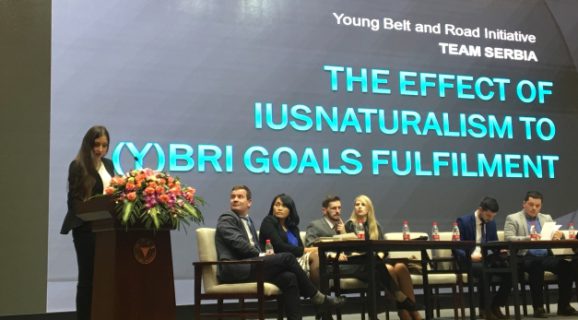 Our student's participation at the International Youth Forum on the Belt and Road Initiative
Third-year student of the University of Belgrade Faculty of Law, Đina Glavčić-Kostić, took part in the International Youth Forum on the Belt and Road Initiative on December 27-30 in Hangzhou, China.
The Forum was held under the auspices of the Academy of International Strategy and Law of the Zhejiang University and the International Academy of "Belt and Road" (IABR, Hong Kong), whose aim, in addition to presentations, freely selected by country-team members, was to promote an outgoing set of articles Youth Belt and Road: Opportunities in Central and Eastern Europe for Chinese students, composed by 16 teams from European countries – members of the 16 + 1 platform.
Đina was the sponsored author of the part of Team Serbia's article about political and legal structure of Serbia from the constitutional point of view, with the support of professor Marko Stanković, as well as the presentation "The Effect of Iusnaturalism to the Youth Belt and Road Initiative Goals Fulfillment" in which she linked the idea of iusnaturalism and exchange of universal legal and academic ideas with the goals of the Initiative, as well as with reducing educational and cultural barriers with China.
The Team Serbia was composed of three members in total, of whom the other two are Serbian students abroad – a master student in China and an undergraduate student in America.
"Belt and Road" is a broad development strategy of the Chinese authorities, proposed in 2013 by President Xi Jinping, with the aim of connecting and cooperating with Eurasian countries through infrastructure, economic and cultural projects.