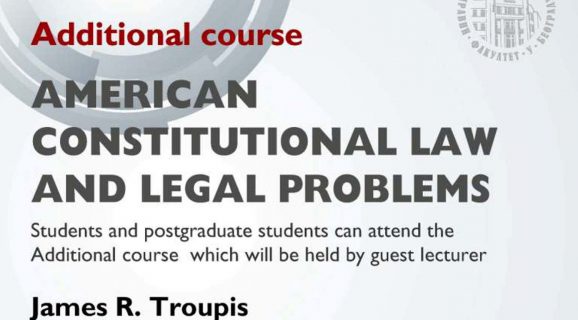 Additional Course: American Constitutional Law And Legal Problems
Students and postgraduate students are invited to apply for the Additional course on American Constitutional Law And Legal Problems which will be held by guest lecturer James R. Troupis Circuit Court Judge, State of Wisconsin (USA). The attendance is limited to 40.
The Additional course will be held in English.
The course will start on Tuesday, November 7, 2017 and end on Friday, November 17, 2017.
Lectures will take place on Tuesday 7 November, Thursday 9 November, Friday 10 November, Tuesday 14 November, Wednesday 15 November and Friday 17 November at the Courtroom (Amf. VIII) from 13.30 to 15.10 PM.
Successful course participation shall be awarded by a Certificate.
Applications (full name, contact details, student card number -"index" number, and CV) should be sent to djordje.markovic@ius.bg.ac.rs by November 4, 2017 at the latest (Subject: Additional Course).