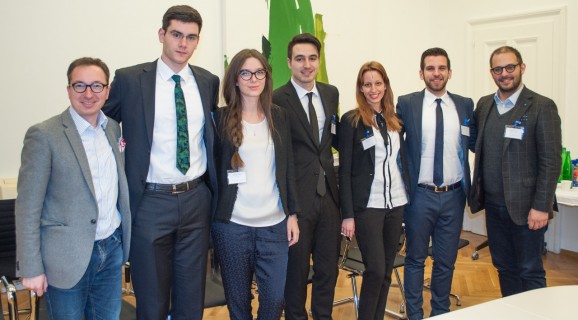 Belgrade Mooties' successful preparations for the XXIII Vis Moot
In the course of their preparations for this year's XXIII annual Willem C. Vis International Commercial Arbitration Moot, the students of the University of Belgrade Faculty of Law took part at pre-moot competitions in Ljubljana, Romeand Moscow.
The Ljubljana pre-moot, which had the noncompetitive character, was organized by the Schoenherr Slovenia law office on 5 February 2016. At this pre-moot our students met with their colleagues from Maribor, Zagreb, Graz and Ljubljana. The team was accompanied by assistant coaches Marko Jovanović and Uroš Živković.
The Rome Pre-Moot (the AIA-CAM Pre-Moot) was organized by the Associazione Italiana per l'Arbitrato and the Milan Chamber of Arbitration on 12 and 13 February 2016 and gathered 12 participating teams. During two days of competition, our students had five oral arguments with the students from Milan (Milano Statale and Bocconi), Paris (Sciences Po), Rome (Roma Tre) and Budapest (ELTE). At AIA-CAM Pre-Moot, the first place went to the team of Sciences Po from Paris, while our team came second with only a few points of difference. The team was accompanied by assistant coach Marko Jovanović.
The next stage of preparation of our students was the Moscow pre-moot that took place at the Lomonosov University (MSU). Our team had six pleadings with the students from the following universities: MGIMO, Lomonosov Moscow State University, Kutafin Moscow State Law University, National Research University Higher School of Economics, Peoples' Friendship University and University of Passau. The participation of the Belgrade team was, once again, very successful, since not only that the team was the runner-up of the Pre-moot, but also our student Jelena Todić was awarded second best oralist at the competition. The first place went to University of Passau. Our team was accompanied by assistant coach Uroš Živković.
Belgrade Vis Moot team is comprised out of five undergraduate and master students: Jelena Todić, Filip Šušulić, Milica Arsić, Dušan Aleksić and Petar Mišković. Professors Vladimir Pavić and Milena Djordjević are the head coaches of the team, like in the past thirteen years. The coaches of the team are assisted by Ass. Prof. Dr. Marko Jovanović and lecturer Uroš Živković, LL.M.