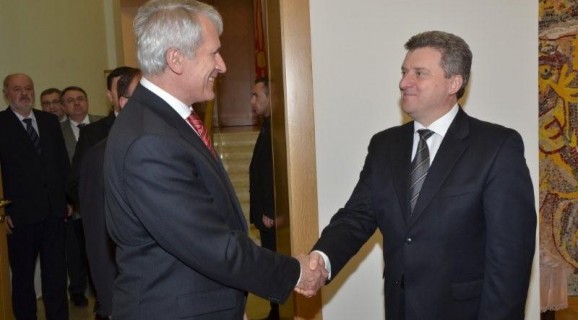 Faculty of Law Became a Member of The South East European Law School Network
On 25 March 2011, the Charter of establishment SEELS – The South East European Law School Network was officially signed at the University "St. Cyril and Methodius" in Skopje. On behalf of University of Belgrade Faculty of Law, Charter was signed by the Dean Prof. Dr. Mirko Vasiljević.
Signatories of the Charter are ten law faculties of universities in Serbia (Belgrade, Kragujevac, Niš), Montenegro, Bosnia and Herzegovina (Sarajevo and Zenica), Macedonia (Skopje), Croatia (Zagreb and Split) and Albania (Tirana).
This project is supported by the German government and the German organization GIZ is in charge for the organizational matters.
Hosting the official ceremony of signing the Charter, the Rector of the University "St. Cyril and Methodius" in Skopje, Prof. Dr. Velimir Stojkovski, stressed the importance of regional cooperation in the development of higher education. Dean of the Faculty of Law in Skopje Prof. Dr Borce Davitkovski spoke on behalf of the law faculties that are  the founders of SEELS network and emphasized that they need to continue to support the process of European integration.
The South East European Law School Network (SEELS) is the first academic network of its kind that brings together 13 distinct Law Schools from the region. SEELS creates synergies and aims to foster excellence in science and education through regional collaboration and European integration. SEELS is established with the aim of improving cooperation between the Law Faculties in the region and thus improving their scientific, teaching and administrative capacities. It is dedicated to increase international competitiveness and high level of performance in the field of legal education, research and publishing particularly with regard to curricula development, inter-institutional cooperation and integrated study programmes at a regional level, through a planned three-pillar-approach (education, research and publishing). In that sense, SEELS supports the strategic development of the Law Faculties and addresses the three identified target groups (student, academic staff and legal professions).